Shopping for swimsuits might look like a stressful thing to do but it's possible to find that swimsuit that will suit you perfectly, no matter what body type you have. Once you've found out your body type, choosing the style and design of your swimsuit will be as easy as 1-2-3!
Here are some tips:
1. Choose sexy and fashionable swimsuit.
One-piece swimsuit can also highlight the contour of your body. The thing is that only lesser portion of the body is revealed. That's where the interesting part begins. Add the mysterious effect by not showing everything. One-piece swimsuits usually reveal more back and less tummy, other types show some cleavage and thighs. It's up to the one wearing it to decide what to flaunt and what to conceal.
2. Choose appropriate swimwear if you are going to actually swim.
Look for the swimsuit that doesn't cut in the shoulder area. Make sure that the fabric is comfortable, stretchable, and doesn't sink in the backside. If you are going to swim all day with require lots of movements, bikini strings are no-no. Nobody wants to have an accidentally swimsuit malfunction while swimming in a beach full of people.
3. Consider your bikini tops wisely.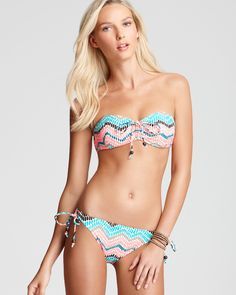 Your bust will determine what type of bikini tops to choose. If you have small bust, avoid wearing tops with too much fabric or doesn't fit perfectly. It will just give emphasis to the small bust. But for bigger bust, flaunt your asset by opting for wide shoulder straps rather than the thin spaghetti straps as it will be more comfortable. Straight cut bust style gives the sporty and clean vibe. However, you must stay away from strapless bandeau tops and tri-tops provide minimal coverage. Thus, it will give more emphasis on the large bust and more probably, the feeling of minimal coverage will be uncomfortable.