Lingerie and undergarments are usually interchanged by most. Both are worn underneath the clothes. The difference is that undergarments are worn to make the woman feel comfortable whereas lingerie is worn to make the woman feel attractive herself. Lingerie is not just a sexy piece of undergarment. It has the ability to give a woman confidence even if nobody sees it.
Every woman wears lingerie but why is it that buying one seems a scary and awkward task for most? This results to paying for something that doesn't fit well and makes the one wearing it uncomfortable. Remember that even the most beautiful and expensive dresses would make a woman uncomfortable if she doesn't have the proper inner wear beneath.
When shopping for lingerie, the key is to have confidence within. It's not about the body size; rather, it's about how comfortably it fits. When shopping, keep this mantra in mind: "Size doesn't matter, fit does". First thing to consider is how you feel about your body – are you shy, proud, or modest about it? Remember that lingerie should boost your appearance but not at the expense of your confidence and feelings. Second is to evaluate your body. What do you want to show off, to hide? Look for the lingerie that accents your positive areas, not the negative ones. Lastly, try lots of options. You can try different sets since not all styles will give you your desired appearance. Otherwise, there would be no other styles of lingerie if only one style is suited for every girl.
Some of the great lingerie choices are baby dolls, camisoles, corsets, teddies and so on. For a change, matching sets of undies would also be a good idea and can be a great addition to your wardrobe.
Matching sets with garter belts. Garter belts can give you a sexy appeal. It gives emphasis to your long legs. But if you are not that fortunate to have sexier legs, you can look for garter belts with nude colors, different texture and designs such as laces and beads.
Matching sets with g-string. It is best worn by women who consider their bum as their asset. Boy leg undies are also perfect to emphasize your bum. You can opt for the boyleg-bra combination or boyleg-corset combination. Complete your look with a pair of high heels that can make your legs and butt look long, lean and more toned.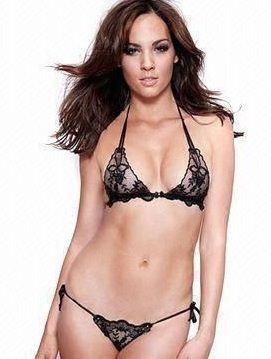 Bra and skirt sets. This combination is usually worn by women who are satisfied with their stomach and bust but are quite conscious with their thighs. Choose your bra depending on your boob size and cover your thigh with the free-flowing skirt. It's all up to you on whether you want the attention be focused on your stomach or your boobs.