Some girls can't go without handbags or purses when going on a date. Whether this is because of their makeup kit or to simply stay fashionable, there are cool selection for everyone.
To feel comfortable on your dinner dates, it is better to choose a handbag or purse that is easy to grip and goes well with your outfit.
Here are examples of handbags that can make you more stunning than a good evening:
1. Crochet In Touch Coral Pink Lace Clutch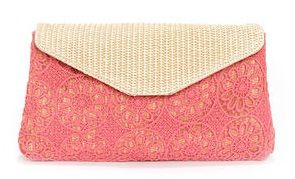 This coral pink lace clutch is perfect if you are wearing girly outfits such as floral dress, lacy tops or shirred skirts. This gives you a sweeter and more delicate figure for the night.
2. Color Block Clutch
Color blocking is a great fashion style. Dresses, bags and clutches come in different patterns, prints and styles. This one is a combination of beige and yellow colors for a more dainty appeal. Whether you are wearing a formal attire or that little black dress, this will be a good choice.
3. Trellis Lover Cream and Gold Clutch
Fond of fairy-like or goddess-like outfits? Then grab this Trellis Lover Cream and Gold Clutch to complete your look. It is made of cream vegan leather with lovely-trellis like design. The golden metal lid is just too irresistibly stylish!
4. True Stud Studded Black Clutch
Simple but classy! This leather structured clutch has round golden studs all over it. It has also golden chain shoulder straps for flexibility purposes.
Image credit: lulus.com