Yes, red is the color of this special day but you can still stand out from the crowd by wearing different shades of red and picking the most stylish dress that will flaunt your figure.
Here are some fashionable dresses that you may wear this coming Valentine's day.
1. Red Backless Dress
Be more charming as you get closer to your date with this red backless dress. It is made of stretchy knit sleeveless bodice with princess seams above the band waist. Flaunt your curves as the semi high-low hem of the mid-length skirt enhances your body contours. It has an open back for a sexier appeal and a large ribbon along the waist band for a sweeter image.
2. Twist Candy Pink Halter Dress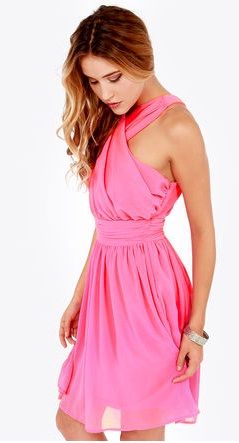 If you like a sweeter and fresher appeal this Valentine, go for lighter shades of red. Pink is a good choice! This halter dress can make you gorgeous and stunning. This dress is made of silky hot pink chiffon crisscrossed in front and back for an daring gathered bodice.
3. Grainline Red Orange Dress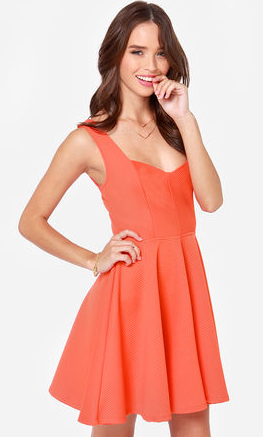 Be hot and gorgeous as you wear this figure-hugging grainline red-orange dress. The color is so refreshing and the design is really unique. It has fitted sleeveless bodice and a slight V-neckline. The bodice crisscross at the back to show off some sexy parts of your body.
4. Coral Floral Print Dress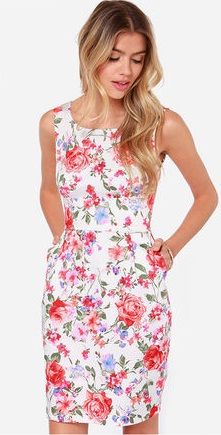 Floral prints never run out of style. Be glamorous day and night with this coral floral printed dress. If you are taking a break from monocolored dresses, this one is a good choice. This dress has a tank strap to highlight your collarbones and frame your sexy arms. The scoop neckline is flattering and the banded empire waist defines your contours.
5. Long-Sleeve Red Dress

Having a date on a cozy winter-themed restaurant? Skip the coat and jackets with this flattering simple but sexy wine red dress. The bodycon silhouette is so amazing! Your curves will get more pampered with its fitted tube skirt ending just above the knee.
Image credit: All lovely dresses images are from lulus.com